Stage Stop RV Park in Tonopah, AZ

Stage Stop RV Park
2614 South Wintersburg Road
Tonopah, Arizona 85354.
623-386-1601.


---
RV Park Information

Storage Rates: Back Lot $40 a month

*2 vehicles per lot, a $25 fee per extra vehicle (over 2) will be applied.

Lot should be kept clean at all times, if excessive storage, or littering occurs then a $25 maintenance/cleanup fee applies to rent for the first two months then $100 per month for every other violating month.

Management reserves the right to evict anyone who fails to follow the park rules.

*Sheds and small storage trailers will count as a vehicle

Amenities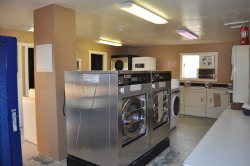 Laundry Facility
We offer mail, laundry, showers, RV dump, pets, utilities, wi-fi, phone and more. Below are a few of our newly remodeled facilities.
Check back often for more!
---
Wanna Bring Your Horse?
.... Check out the local horse boarding
A Quad or ?
....We have secure storage