Lodging Rates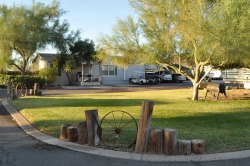 Park
Yearly: $2,500 (Plus Electric)
Monthly: $295 (Plus Electric)
Weekly: $170 (Electric Included)
Daily: $35 (Electric Included)

We offer 30-50 amp sites.
$150 refundable deposit is required for all lodging.
---
Park Owned Rentals/Outage Lodging Rates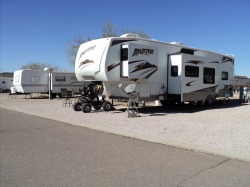 RATES
Daily: $40
Weekly: $170
Please keep in mind that rent monies are not refundable.
$150 deposit is required for lodging and to hold a reservation (Deposit will not be refunded if reservation is cancelled). Deposit refunded upon departure if unit is free of damage and key's are returned. We require 2 valid ID's (bank card and driver's license).
Extra fees apply for more than 2 people per unit, late fee's are imposed if rental monies are not paid promptly.
Pet's are NOT allowed in our units! If it comes to our attention that there is a pet, you will be asked to vacate at once and no deposit money will be refunded.
Smoking is prohibited in our rental units.
Tenants are responsible for the purchase of propane.
---